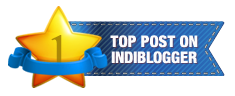 Becoming a parent has made me more patient, calmer and a worrier for life. I no longer take my decisions frivolously. I worry about my children's health and safety every living minute. This has also made me more conscious of my own choices and living. Though I live in the present, I plan. This is because I would like my children to have good opportunities at leading healthy fruitful lives. I want them to have education, health and happiness.
I am also aware that in the face of poverty, illiteracy and lack of resources, thousands of children die globally every day. Pregnant women do not have access to healthcare, medicines and nourishing food. Little children die needlessly often before their 5th birthday, as they do not get vital vaccination and adequate food for growth.
Did you know that 12 children below the age of 5 die every minute around the world?
This is a staggering, heart-wrenching statistic. It makes me sad to read about this. Nothing is worse for parents than losing their own child. Nothing! How I wish that no child would die in this world. While we have no control over nature, what we can do is help in whichever way possible.
What is tremendously sad is that many of the others who survive do not live long, healthy lives, as they never get access to food, clean water, sanitation and education. These tiny, vulnerable children suffer from malnutrition and disease while we splurge on extravagant meals and expensive healthcare. It breaks my heart. I appeal to every parent and human being out there to be the voices of these hapless children. Let us all endeavor to donate whatever we can to help a child somewhere.
I contribute to organizations like UNICEF that are working for providing food, shelter and education to children.
You can become a UNICEF Global Parent by your donation:
As little as $39 can provide vitamin supplements to two pregnant women and reduce the chances of mortality at birth, miscarriage or still birth.

$69 can provide 88 sachets of fortified milk for children to supplement their nutrition

$89 can help vaccinate 250 children against measles
Any amount contributed by you can help save the life of a child.
Your donation can make a difference! You can also donate for any of the multiple causes that UNICEF supports.
Open your hearts and your purse strings. Every single dollar counts!
Comments
comments