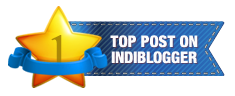 It is fun, bittersweet and nostalgic to look back at your year especially when it comes to my blog. WordPress does a great job of sending you a snapshot of your blog's performance. I will use some statistics from there but this baby of mine deserves a more personal approach. 🙂
Here are some milestones:
The year started with a bang when I got published in a Print magazine — Parents India. 

I won a few blogger contests this year that were special not only for the prizes won but for the feeling of your content standing out and being appreciated among so many others.

I made my debut on prestigious online magazines like Elephant Journal and Huffington Post India this year.

I continued to write about social causes, children, women, parenting, travel, health and many more issues.

I did some fantastic engagements with some lovely brands and clients both on the blog and in Content Writing.
Top 10 Posts of 2014:
Bloggerspeak deconstructed: I had a lot of fun writing this one. After all, if we don't laugh at ourselves, who will? Luckily the post was taken in the right spirit as well.
Aunty Who? This post was penned in December 2012. It continues to strike a chord with people across the board who have experienced the horror of being called 'aunty' or 'uncle' while being still young (in their eyes).
My fight for my BBMP khata This post penned way back in 2010 continues to inspire people to say no to bribing. I get many queries about this blog.
A terrifying incident in the train This post was written about a real scary experience in the train. It struck a chord with many.
When I went off Facebook: As I shared my experience of pulling the plug off my FB profile, I saw that many connected with the post and my experience.
A friend for life: When my young son wrote a lovely post about his brother on my blog, it was the recipe for a hit. This post saw my blogger friends pitch in with gusto to cheer the budding blogger.
6 relationship tips that will keep the spark in your romance alive — busted: I had loads of fun penning this one. One of the few humor posts on my blog.
Storytelling: This post was about a wonderful storytelling session that was immensely enjoyed by my younger son. This post led to some very meaningful dialogs.
Chashmish: This post about a not-so-pleasant childhood memory had many reminsicing with similar or different experiences.
An encounter to remember: Yes, this doctor seemed to have trained at Hitler's Academy of Medicine. After giving us a frightful experience, the only saving grace was that this post won a prize.
Traffic:
Most of my blog's traffic comes from India followed by a substantial number from the US. UK and Australia follow them. Overall, this blog saw visitors from 123 countries in the past year.
Comments:
The Top commenters on my blog the past year were:
1
janu 84 comments
2
Sid 77 comments
3
Nabanita 66 comments
4
Latha 65 comments
5
Seeta 60 comments
Thank you so much! And thank you to everyone who tread this blog — read, commented, shared or messaged. Your love and appreciation keeps me going.
Top Referrers:
Kudos to the power of social media!
Total Posts:
I posted 92 posts this year that has taken the total posts on this blog close to 656 posts. That felt impressive even to me. 🙂
So, the year draws to a close. And the new one beckons with sweet possibilities and much more to be achieved. Here's wishing everyone a Very Happy New Year 2015.
Comments
comments