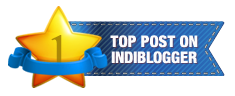 I am a person who enjoys eating healthy and home-cooked food. But, I do take my offs as well especially as I have two kids who just love the McDonald's fare. Though it is a rare treat, when we are eating fast food, we go the whole mile. Whether it is the burger, wraps, fries or meals, no one does it quite like McDonald's. The food is tasty, fresh and hot, the prices reasonable and the staff friendly. Every outing to McD is fun.
But the outing yesterday was even more spectacular. It being the festive season, McDonald's outlet was beautifully decked up with Christmas tea, festoons and a festive spirit.
McDonald's has relaunched its Piri Piri fries in Bangalore. Piri piri or peri peri sauce has its origins in the Portuguese cuisine. It is a fiery sauce or spice mix that is made from African bird's eye chillies. It also has garlic, ginger, onion and other spices and seasonings to make for a tangy, lip-smacking spice mix. It goes beautifully with the hot and perfectly done fries at McDonald's.
Just put in the fries in the paper bag with the spice mix and shake the bag. Your yummy fries are ready. Dunk them in ketchup and have them as is. They are so delicious that you would surely not wish to share them. You can see how each one of us is holding onto our pack of fries dearly. Sorry, no sharing. 🙂
We also had our regular fill of burgers, wraps and a plethora of drinks that included coffee, iced tea and coke. Of course no meal at McDonald's is complete without the luscious chocolate swirl. I have been having that since the first outlet of McDonald's opened in Mumbai way back in late 90s. There used to be a massive queue outside McDonald's just for the hugely affordable and tasty swirl.
Satiated we tottered back home with happy tummies. The Piri piri fries were a hit with all of us. We will be sure to order them again on our next outing to our favorite fast food joint.
Have you tried the Piri piri fries at McDonald's? Do you like them?
Comments
comments