Becoming a mother has been a thoroughly fulfilling yet fearful experience. Before the babies were born, all that I worried about was that they be healthy. I didn't care how they would look and what personality they would have. Just let them be healthy, God! Though all babies are wrinkled and look like little monkeys, when they are placed in the arms of harried parents, they are the most precious and beautiful kids ever born. The initial euphoria gone and the days falling into a feeding, diapering, bathing, putting to bed, repeat routine, I finally started wondering how they would be. The debates about nature versus nurture had made me a firm believer of both playing a big role into who your child eventually evolves to become. Here are some of my good traits that I hope they would imbibe:
Sensitivity: I have often been commended on being 'understanding.' I am fair even when dealing with people who have not exactly been kind to me. And, I do try to give the benefit of doubt. But, I have my limits. After all I am a true blue Scorpio. 🙂 All these years on the earth have given me the understanding to know that most people are trying to do their best – partners, parents, friends and relatives. This helps you to judge them less and empathize more especially when they screw up. Also, I find myself being affected by so many social causes. Being sensitive is not being sissy. It is being human.
Rationality: I guess my being a Science student helped with a rational, thinking approach in life. That and my interest in Psychology. I question. I seek. I thrash out arguments. I am open to diverse views. I think it is very important to operate from a rational viewpoint even while you retain your sensitivity and emotional makeup.
Honesty: I know honesty seems overrated in the world today when everyone is in a mad rush to amass wealth by any means. As old fashioned as it may sound, one has to be honest to oneself and the life one leads. One also has to be clear in conscience of not doing intentional harm to others. One has to be honest in one's relationships and one's profession. My father is the person who showed me by his life how to live honestly, with integrity and yet be successful in one's calling. I sure hope that it passes on to the next generation as well.
Affection: Never be afraid to hug someone. Never be afraid to show your affection and caring (does not imply an overload of emoticons of social media :)). Again, it is not childish or silly or feminine. I love deeply and with a lot of heart. I give of myself very openly despite setbacks.
Diligence: I like being a problem solver. In my own life, I hate ambiguities and issues left hanging. One way or the other, I want to resolve them. And I seize situations not waiting for someone else to act first. This is a quality that I have seen many in my own family laud. Hope for the kids to catch this one.
There are many traits that I would rather not pass on to them too. However, let me not go there just now. 🙂
I also take this opportunity to commend Nova IVI Fertility Clinics that has achieved and completed 5000 successful pregnancies in the last 3 years. With their ethical IVF treatment, they have provided hope to thousands of families who were unable to conceive naturally. They are celebrating this milestone this January by organizing meets with parents who benefited as well as events and press conferences across the country. Nova IVI Fertility Clinics are present in 8 cities across the country – namely Ahmedabad, Bangalore, Kolkata, Mumbai, New Delhi, Chennai, Jalandhar and Hyderabad.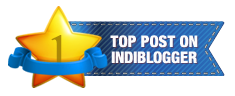 Comments
comments