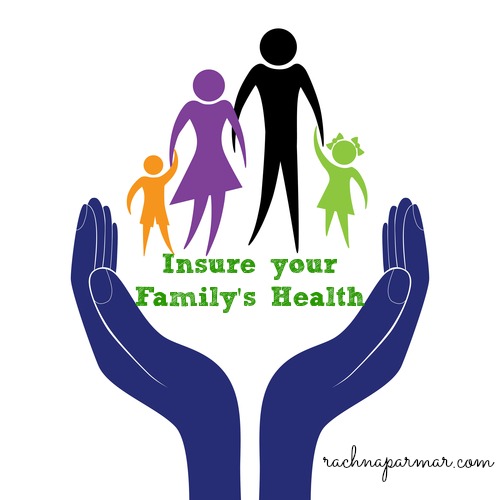 I remember that when I was a child, it was so easy to just rush to the neighbourhood doctor if one of us was sick. I don't remember stepping foot in a hospital till much later. No one had heard of health checks or regular blood tests in those days. That is not to say that they are not useful. That could be one of the reasons why so many people with diabetes were undiagnosed till much later like my father-in-law or that people like my grandmother were never diagnosed of heart disease till it was too late.
Yes, those were simpler days when our mothers and fathers were comfortable with their girths and their idea of sweating it out was generally due to hot weather. But, it was when my mother had her stroke that we had our first brush with the hospital system. Luckily for us, she was admitted to one of the premier hospitals in Bombay where she got timely treatment. It helped that my father was a bureaucrat and he had health insurance coverage through his government service. Imagine if we had to foot those fat hospital and doctor bills? Sends a shiver down one's spine!
My own aunt had sudden kidney failure and the cost of transplant and medicines was exorbitant. All this when she was just in her 40s. They had to sell off their property to pay her bills. Sadly, no one had heard of health insurance back then.
Yet, disease does not strike with a warning. And in today's day and age where healthcare has made progress by leaps and bounds, its cost has skyrocketed too. While many of us get insurance through the companies we work for, those among us in between jobs, on a sabbatical or self-employed do not have any health insurance. Another question to ponder is about the coverage. Are we adequately insured?  While, we may have a false sense of assurance that we are young especially when we are in our 20s, it really is never too soon to have health insurance.
No one likes to think about accidents or death; there is a time in life when one must. Most health insurance comes with hospitalization benefits, cost of doctor's consultation and medicine along with other benefits. They also assure timely and cashless help. Hence when in great need, you can just get on with the treatment while leaving the paperwork for later. The best feature for me is cashless hospitalization facility across the entire country. Also these health insurance plans come with beneficial riders at very little additional premiums. These riders provide you added coverage against disability and accidents. It makes a lot of sense to get that.
ICICI Lombard is one of the trusted players in the space of health insurance. My husband has taken a policy with them which has more features than the other players in the market. When it comes to health insurance we have a family floater cover which also takes care of Critical Illnesses and an Accident cover. After the husband quit his job to start something on his own, we were suddenly without the generous health insurance cover offered by his then employer. Aware how draining medical expenses or emergencies can be, our first step was to get health insurance cover for the family. Since then, we have had a couple of hospitalizations that we've breezed through. I can't recommend one enough today even though you may be covered by your employer.
Also remember to include any dependent parents as their bills can be pretty steep. No matter what continue to invest in healthy living. Exercise, invest in mental exercise and eat well and start young. Your body is like a bank, small savings would yield large returns at a later date. And for the rainy day, have that health insurance under your belt!
Does your family have health insurance?
Comments
comments
Do you worry about SEO optimizing the content you write? Now you need not. Get my SEO Cheat Sheet to write kickass Blog Posts that rank well.
Get it for FREE here