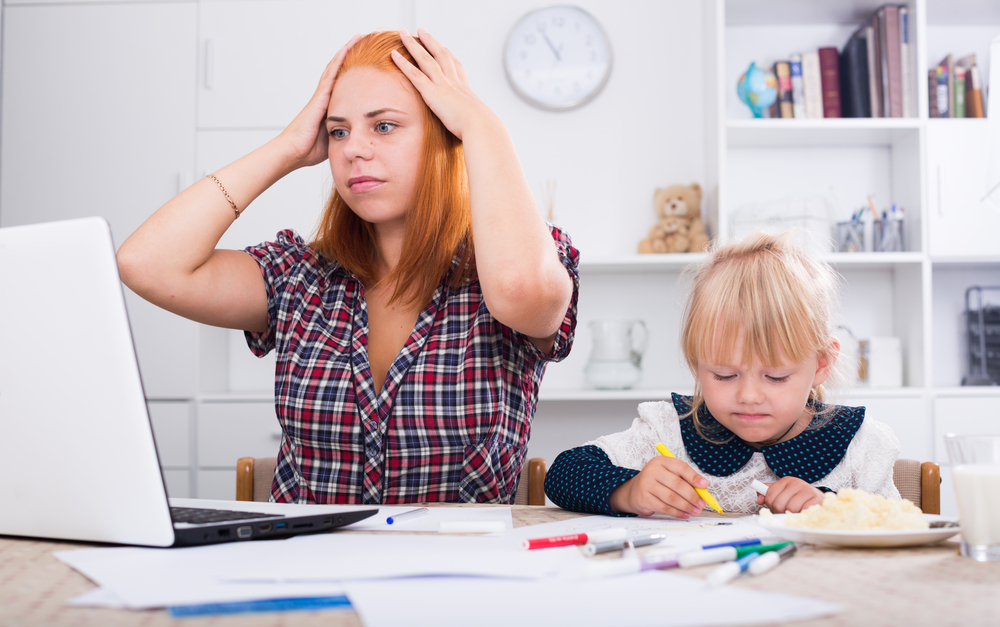 I hate the term Super Mom even if it is meant as a compliment. Mothers are a stressed species in general and calling some super moms puts pressure on the others to measure up. As it is, guilt is a large part of every mother's life along with super hectic routines.
Mothers whether at home, working from home or working out of an office, we slog. I am not saying that dads don't slog, but I definitely see a higher level of involvement that mothers have in their children's lives compared to dads. I have personally shied away from taking on full-time professional work because I wish to be home in the evenings for the kids. I do end up working full time at home on various projects but at least I am not commuting and have flexi hours.
That is not to say that I have it easier. Mornings are a blur. Luckily, the husband gets up earlier, makes a steaming mug of coffee for me and himself and cooks his own breakfast. These days he has lunch at work so I have one less dabba (tiffin) to pack. But I have to pack 4 dabbas for the kids. So, I rush down and gulp down the coffee that the husband has made trying my best to savour it while I heat the milk for the children's breakfast. Then it is a mad dash to have everything packed while they get ready.
Once they are out of the door, I pick the newspaper and spend some time with it while some mindless news on TV run. I catch my breakfast and workout. Prepare and give Coco's meal and take him out and then sit down for my work.
The day whizzes past and one son comes home by 4. I go out and pick up the other son a little later. I avoid cooking lunch unless there are no leftovers or shortcuts that I can manage. But I do make an evening snack for everyone as ravenous kids descend upon home. Evening I try to help the younger son with his studies and make dinner for the family.
In the night, I try to catch up about an hour of TV watching one of the shows I've recorded. In the interim, I supervise the maids as I go from room to room with my laptop. I also load the washing machine, fold the laundry, make beds and give clothes out for ironing. Ordering groceries and running stray errands also happen in the same hours. Watering the garden as well. And there are many other sundry tasks that I complete that sometimes I really have no clue how the day has passed me by.
There are days when I am very tired. By evening all I want is some peace and quiet. I don't even want to speak to anyone. I feel guilty at times if I feel tuned out when the kids talk to me but I just feel so exhausted.
The routine becomes more taxing when they have their tests and exams. They have 4 tests and 2 exams in a year. And their studies are completely my prerogative.
So yes, whether kids are older or younger, mothers have their hands full most times. Their needs change with time. Now, it is a lot of engagement and time to keep their behaviour in check, their lives on track, take care of their angsts – small or large, keep them motivated and suitably engaged. It is sometimes a struggle. I can't say that I sail through these responsibilities. I try to do my best for whatever it is worth.
These days finding time to do my own thing or even to read is quite a struggle.
I am hoping that 2017 will be better in this regard. Hopefully, I will feel less rushed, less guilty and more in control.
I am linking this post to #MommyTalks at Naba's blog. Do join in if you can.
Pic courtesy: Iakov Filimonov on Shutterstock
Comments
comments