As I write this post on the last day of this year, it is time to look back at the bittersweet memories. One wonderful thing I took on this year was writing gratitude posts every month. It helps. It really does to focus on the positives.
So December. What a whirlwind you were! Very hectic workwise, the month really did swish by in a rush. There is a party planned with friends this evening to bid goodbye to 2016 and do some eating, drinking and making merry.
This month was very family centric. As dad visited us in the last week of the year, we had a ball at home, watching movies together and having energizing conversations at home. The kids had so much fun hearing about some of the mischief that their mom and uncle wreaked when we were kids.
Healthwise, discovered a few deficiencies at the annual blood work. Already working on those. And there is some major tooth work in store in January. Not looking forward to that at all but has to be done.
This was also the time when I spoke to a dear friend for the first time. I got to know Iliana through another dear friend, and she and I have shared a lot over the years. We connect and vibe well. Finally, she took the step and we took our relationship a step further by picking up the phone and speaking to each other. It was just lovely. Hope 2017 will be the year when I get to meet her in person as well.
We managed to complete some pending work at home right towards the year end. I managed to watch a truckload of movies and though a bit back on my reading, I will complete the four books at home in January.
Workouts have gone to the dogs. Oops, I meant they became as irregular as can be. 🙂 But that's okay, I know I will be regular soon.
Work was challenging and motivating. The two large projects I work on make me learn something new every single day. I am so very grateful for that! Started a couple of new collaborations in the last month. More on that later. Figured in a few Top blogs lists for which I am very grateful. Also I never cease to be grateful for the love and support of my virtual friends. Also am the finalist in two categories for the Orange Flower Awards by Women's Web.  Always good to be appreciated in any manner.
And, this December, the husband and I celebrated our 16th marriage anniversary. It was a delightful day when the husband took me along to buy me flowers. 🙂 We also had a lovely family dinner – the kids, our joy, a big reminder of the beauty and love of our union.
With that I say my goodbye to 2016! Ups and downs and everything in between, I loved you. Thank you for the experiences and the lessons you taught. Let's see how 2017 goes.
Wish all my readers a joyous, healthy and happy 2017!
Image courtesy: mangpor2004 on Shutterstock
Linking it to gratitude post on Vidya's blog.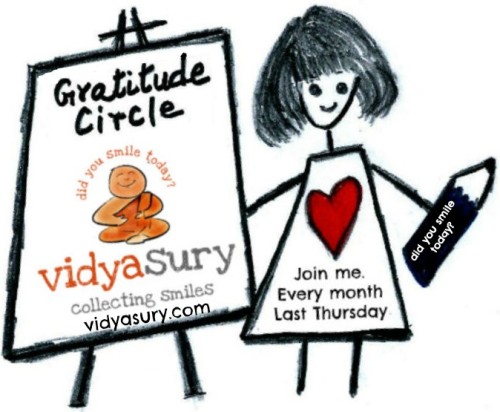 Comments
comments