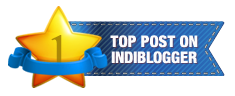 Today, I have the pleasure of hosting Karthik aka The Fool as he is popularly known as in the blog world. He blogs at Lucifer House Inc. and Three Realms of the Mind. I don't exactly remember how I chanced upon his blog, but I've been reading him for years now. His Bride Hunt series is one of my favorites. His contest posts are refreshing to read as he does a great twist on any brand endorsements that need to be done. He also leaves honest and insightful comments on your blog.
He specializes in fantasy fiction and has been published in several anthologies. A Corporate slave by the day, a newly-minted father and a quiet, shy person in real life, he lets his writing do the talking. His writing is candid, varied and engaging. Here's over to him…
————————————————————————————————————————-
I never imagined I would ever write a post on parenting – I am just not parenting material. But then here I am, invited by one of India's foremost bloggers on the topic of parenting to write a guest post on her blog on this very topic.  Let me see where do I get started – this is one topic where I have the luxury to start like Oliver Twist – where it all began. It all happened one fine September morning on the eve of Ganesh Chaturthi. Wife complained of pains and we rushed to the hospital. Nowadays in modern hospitals however fathers do not wait anxiously outside for nurses to come out and announce whether it is a boy or girl. They take you right in where you can watch the doctor pulling out a lizard like creature from your wife's womb like a magician pulling a rabbit out of a hat, chatting away casually all the time. I was so stupefied by the enormity of the moment that I did not even use basic common sense to figure the gender of the child and had to be told the same.
 So here he was! What next? Well, I am not much of a baby person. All the babies I have dealt with before this one grew up to be cousins. I have tended to consider them a general nuisance till they grew up enough to share my views regarding the following one. And on the way to that stage, I also had this habit of making myself a nuisance to the parents of the respective kid. For instance, my aunt had painstakingly trained her daughter to answer questions properly during her interview for kindergarten admission. And I ended up throwing water over all her efforts by teaching the kid to say 'dirty goose' when asked for her name and other similar responses. When my teaching prevailed over hers during the interview the next day and the admission did not come through, my aunt no longer felt so fond of me. So all my uncles and aunts were curious how I would be when I had a kid of my own. And so was I.
So far I would say I have done reasonably well given my checkered track record with babies. I am yet to feel irritated with his frequent bawling or tantrums. I have come to view with a sense of marvel some of the milestones such as his turning over, his crawling, his walking, and his first words – things I might have hitherto considered mundane and unworthy of my attention. Then there are few small activities over which we have established a kind of connect – one of them being practicing how to precisely insert a tiny key into a cupboard lock. So clearly I am not finding him a nuisance. Now he is nearing the age where I can begin to make myself a nuisance – I sense the dormant urge to play the old pranks awakening – something unbecoming of fathers.
We have this old stereotype of a father as a distant and strict person who hides his love and tenderness for his children. Modernity with increasing degenderizing tendencies is trying to break these stereotypes. We have fathers openly expressing feelings and actively participating in the upbringing of children from a much earlier age. I do not know if I will fit either stereotype. To be honest I find it really difficult to see myself as a parent. I have often felt I am a kind of Peter Pan still mentally stuck in my early teens finding it difficult to come to terms with life as an adult. I feel this will have a great impact on how I relate to my son as he grows up.
Parents tend to be guiding figures teaching their children of right and wrong, dreaming of their future and setting expectations for them to meet. I remember my own childhood – struggling most of the time to meet my parent's lofty expectations. On the other hand, I find myself back in the familiar role, struggling to please in the hopes of winning my son's approval. I am not sure if I myself know enough of right and wrong to teach someone else. As far as deciding his future is concerned, far from that I am still figuring what I want to do.
So from the way things stand as of today, only thing I can say is I hope he will have me as friend when he is old enough and we have a good time together. I hope I can once again vicariously live through the childhood I have grown out of. I understand the times are different and his childhood will not be same as mine. But isn't that part of the fun – what is the point doing the same things all over again? As far as growing up and becoming somebody or something is concerned – he will have to do that on his own. From my side he can hope to draw upon two things – access to financial resources and life experiences – the inevitable consequences of my forced ejection into adulthood.
Image courtesy of David Castillo Dominici at FreeDigitalPhotos.net